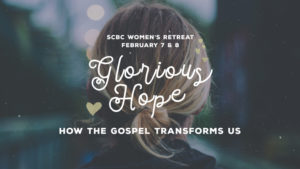 In a world full of busyness, sorrow, and hard work, it's easy to feel careworn and disconnected from community. But God wants the church, grounded in the gospel, to be a place where support and friendship can flourish. Join us, as women of South Canyon Baptist and Redeeming Grace (the new church plant), as we remind each other of the joy and hope we have in the gospel together.
The pastors' wives will be teaching from 2 Corinthians on how the glory of the gospel transforms our lives. Be refreshed as you connect to other women, worship together, and discuss how the gospel gives us hope in our everyday lives, in our dark days of suffering, and how God's Word gives us a steady anchor of truth.
All women are welcome to join us for our Women's Retreat from Friday, February 7th (Check-in begins at 4pm, Dinner is at 6pm) – Saturday, February 8th at 2pm at Cedar Canyon Camp!
Registration is $40 and covers meals & lodging.