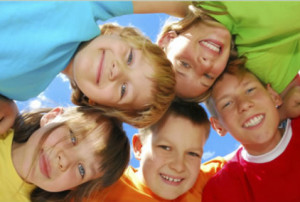 The SCBC Children's Ministry exists to create a secure, loving, and fun environment where kids can learn and follow Jesus.
For us, "SCBC" stands not only for South Canyon Baptist Church but it also defines the top priorities in our Children's Ministry.
Safe – We want every child and parent to be and feel safe in our ministries. We go to great effort to make sure all of our volunteers are trained and professionally background checked. We maintain policies to protect leaders and children from opportunities for misconduct or accusation. We do all we can to make sure our facilities are properly maintained and supplied. We want SCBC to be a safe place for children.
Creative – We seek to make everything we do fresh, energetic, and fun. We believe church should be exciting and engaging because we serve an exciting and engaging God. We try to be creative in all that we do to help kids enjoy learning spiritual things.
Biblical – We firmly believe that the Bible is our final authority for belief and practice as Christians. So we select and test everything we do with the words of scripture. Our curriculum and workers will always strive to best represent God and His Word in an accurate and clear way. We want it all to be rooted in the scriptures. We want our children to be rooted in the scriptures as well.
Consistent – We don't want to just be a great Children's Ministry once in a while but every single time. We believe every opportunity to influence a child towards Christ is a great opportunity. Our leaders and teachers make great effort to make every ministry opportunity count for eternity. We will seek excellence in each and every ministry meeting because we believe that honors God and honors the kids.
You may click on the following link to our Children's Ministry Manual which outlines the standards and policies we abide by in our Children's Ministry. (South Canyon Children's Manual)